Product Description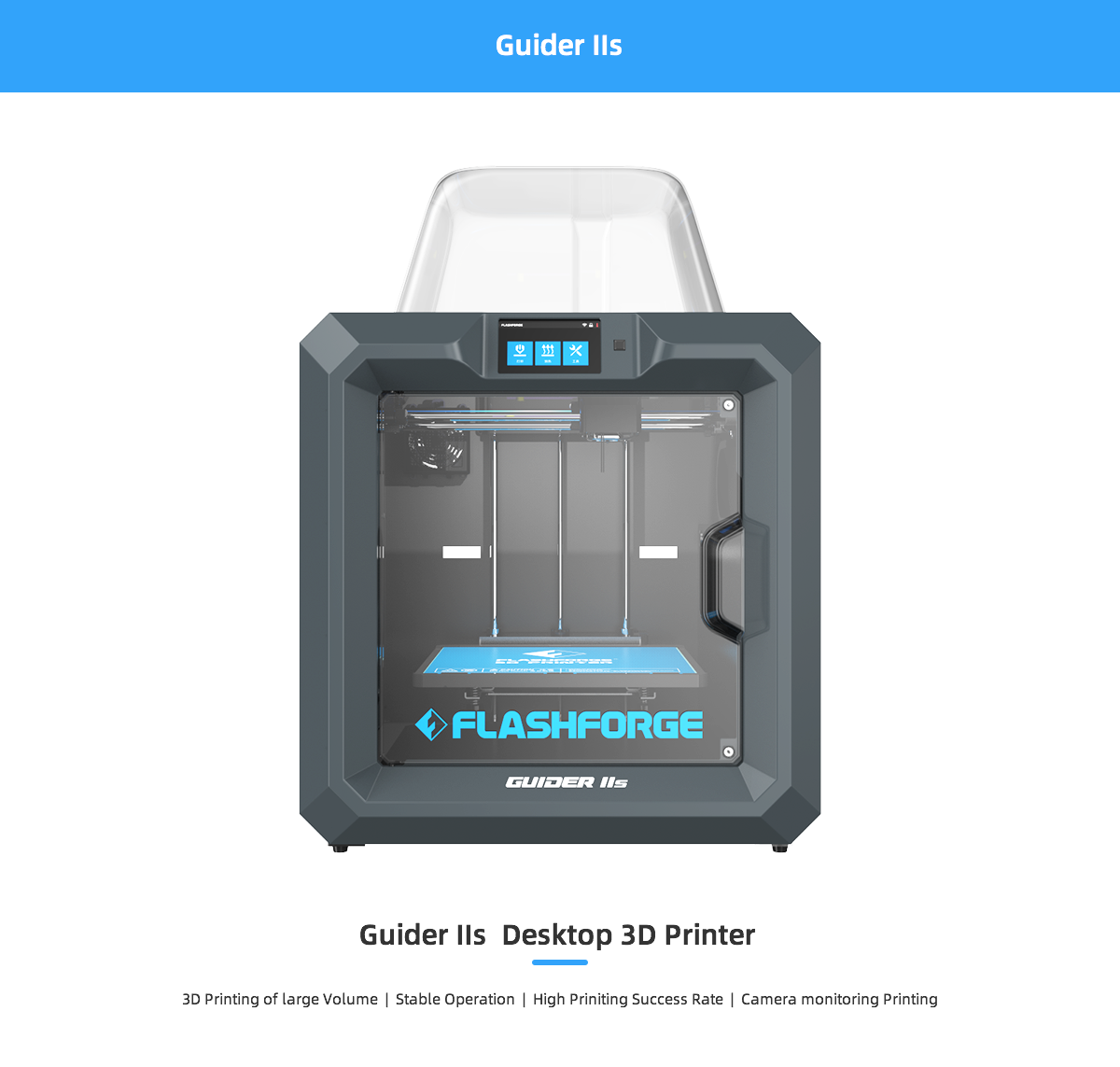 Flashforge Guider IIs Features:
5-INCH TOUCH SCREEN (Easy to use, Multiple language packages built-in.)
RESUME PRINTING (A guarantee for the large size model printing, in spite of accidental power failure.)
LARGER BUILD VOLUME (68% larger, Adapt to objects of different sizes.)
HEATABLE BUILD PLATE (Meet more needs.)
HIGH TEMPERATURE NOZZLE NOW SUPPORTS UPTO 300*C
DEVELOPED DEVICE STRUCTURE (Stable and durable body and components processed by high-precision CNC machine tool.)
MULTIPLE CONNECTIVITY (Support USB Stick, USB cable and WIFI connection.)
POWERFUL & EFFICIENT FLASHPRINT (Handy functional FlashPrint, helps to improve the printing, precision by internal and external compensation.)
BUILT-IN CAMERA (On-line camera helps you monitor your print jobs.)
AIR FILTER FUNCTION (Guider IIS adds filter and backboard fan to filter out dust which may be produced in the process of printing.)
Key Specifications:
Device Size (without lid): 549 x 490 x 561mm
Build Volume: 280 x 250 x 300mm
Printing Precision: ±0.1-0.2mm
Printing Software: FlashPrint
AC Input: 100V-240V~, 500W
Input Support: USB Stick/USB Cable/WIFI/Ethernet
Filament Support: ABS / PLA /PP/PA/PC/ SOFT FILAMENT / FLEXIBLE FILAMENT / CONDUCTIVE FILAMENT
The Flashforge Guider II S 3D printer is another trim of the Guider II with additional features. In addition to all the specs that its predecessor boasts, the Guider II S added features include: built-in HD camera for remote monitoring and new air filtration helps to reduce unpleasant odors and hazardous emissions. Guider II S is an industrial grade 3D printer. A massive build volume with the top level of FFF technology, designed to provide the maximum stability and ruggedness when printing your designs.