Product Description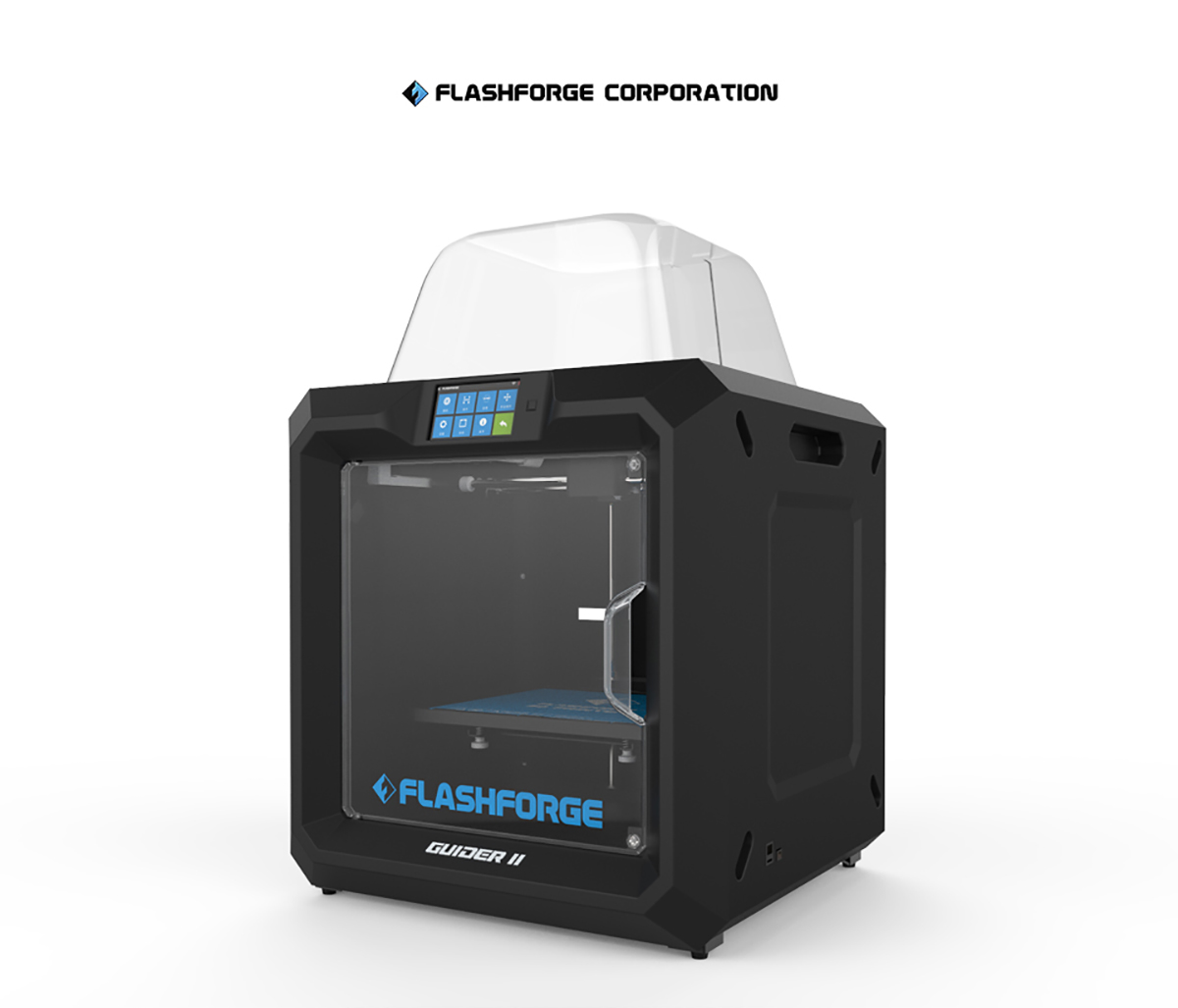 Flashforge Guide II is a professional Grade FDM/FFF (Fused Filament Fabrication) 3D printer. With an all-metal frame design and body side panels made of high-strength ABS material, the Flashforge Guider II not only has a stable 3d printing performance but is also lightweight and durable. Perfect for the architectural models, construction sector, science research, manufacturing industries, and education.
Compared to the first generation, Guider II enables the use of more types of filament due to the improved molded transparent top cover and front doors, allowing the enclosed print chamber temperature to be more stable. Guide II also includes a new Resume Printing function after the power failure to ensure a smoother user experience.
PROVEN 3D PRINTER STRUCTURE
Guide II follows its predecessor in its reputable structure. All moving parts are processed with immense precision to ensure stable print performance. The Guider II has a 68 % increased build volume, higher precision, and reduced failed print rate.
GREAT FEATURES
The Guider II comes brings a number of great features, such as:
• Innovative Extruder System – completely encased air supply system to elevate printing smoothness
• Heatable Build Plate – supports multiple mainstream filament types for diverse printing needs
• Touch Screen – Guider II is equipped with a 5-inch full-color touch screen and multilingual user interface. Here you can preview your printing models.
EFFICIENT SLICING SOFTWARE
FlashPrint, the mainstream slicing software used by FlashForge 3D Printers, has garnered outstanding reviews by the media and professionals. The software further offers an expert mode, which allows dozens of parameters to be set by the user, for greater printing flexibility. With the external/internal compensation feature, the dimensional errors are reduced to 0.02 mm.
SPECIFICATIONS
3D PRINTER SPECIFICATIONS
Print Technology
FFF/FDM
Assemble Type
Assembled
Build Volume
250 x 280 x 300 mm (21.5 liters)
Layer Resolution
0.05–0.4 mm (50–400 microns)
Print Speed
24 cm3 / h
Nozzle Diameter
0.4 mm
Max. temperature
240 °C
Position Accuracy
XY-axis: 0.011 mm | Z-axis: 0.0025 mm
FILAMENT
Filament Diameter
1.75 mm
Material Type
PLA | ECO PETG | ECO PLA Wood | ECO TPU (SHORE-value: 95A, 60D and 64D) | Soluble materials
CONNECTIVITY
SD Card Reader
No
USB Port
Yes
Wi-Fi
Yes
USB Memory Reader
Yes
FEATURES
Enclosed build chamber
Yes
Heated Build Platform
Yes
Illuminated Build Area
Yes
Built-in Display
Yes
SOFTWARE SPECIFICATIONS
Included Software
FlashPrint
Supported OS
Mac OSX, Windows
File formats
STL, OBJ
SIZE & WEIGHT
Product Dimensions
549 x 490 x 561 mm
Product Weight
30 kg